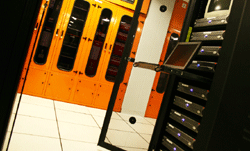 Tasked with a sub-department or an off-site office's email, website, business applications to maintain?WIRED-MEDIA hosts a fleet of top-performing shared servers, serving customers ranging from MNCs, government agencies, educational institutions,
Our shared servers are micro-managed to ensure that each customer has the proper allocation of space within the shared server's capacity.  As we understand that email and website have become one of the most important communication tools for your business, you can trust that we don't over promise you with extravagant features which cannot be materialized or delivered, thus resulting in over-commitment of resources which leads to service interruptions.
WIRED-MEDIA Email Hosting Solutions
Have your very own unique and professional-looking email!
We provide you complete email solutions that are fully hosted with the flexibility to manage your organization's email accounts.
Features *:
Allocation of only up to 80 domains per servers
 A generous Disk Space allocation of up to 2GB
 Access your email using universally accessible web-based mail application or email programs such as Outlook Express or Microsoft Outlook.
Web-based user administration
Unlimited POP3 /Webmail user accounts
Unlimited E-mail Aliases / Forwarding / Auto-responders
E-mail processing rules
24 x 7 x 365  phone and email technical support
Flexibility of allocating the size of each email account.
Security
Uptime
24 x 7  x 365 network monitoring at 5 minutes intervals
 Anti-virus pattern updates
 Anti-spam pattern updates
 System security patches
WIRED-MEDIA Web hosting Solutions
Operating Systems – Windows / Centos
Features*
Allocation of only up to 80 domains per server
2GB disk space
1FTP account
CPanel administration available for Linux hosting packages
Database
MS Access Database
MS SQL Server Database (Optional for Windows Hosting)
MySQL Database (Available for Linux Hosting)
Server Extensions
Frontpage extensions
ASP/ASP.NET Framework
PHP 5.6/7.0
Perl CGI
Streaming
HTTP Real audio/video streaming
HTTP Windows media streaming
Security
Firewall with Integrated Intrusion Protection
Backup
Uptime
24 x 7 x  365 network monitoring at 5 minutes intervals
*Specifications are based on Business hosting plan. Click here to learn more about our hosting plans.